Call: 512-834-3540 Fax: 512-834-3549
817 WAGON TRL AUSTIN, TX 78758
About Protech Body Shop
Austin's Premier Automotive Body Shop
Protech Body Shop offers first class customer service for all of your automotive needs.
We are a full one stop shop that takes pride in all our work and cater to your convince, not ours.
Unlike most shops, we make our deadline on completion dates set forth. We offer paintless dent repair, auto glass repair or replacement, mechanic repair, alignments, collision repair, computerized frame measuring and pulling, performance up-grades, towing, wheel repair, and much more all in one building for your convenience. We also offer shuttle service for all drop-offs. We are fully equipped with all top of the line Snap-On equipment to diligently and correctly take care of all your automotive needs.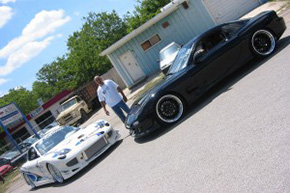 Who is Marwan?
20 years of experience
Marwan Alameddine has devoted his entire work history, and his educational experience, to automotive paint and body repairs.
Marwan relied upon all his accumulated expertise in 1998 when he opened Protech Body Shop in Austin, Texas. Since then, he has used his business acumen and his industry knowledge to build Protech Body Shop into a most respected quality auto body and paint shop in central Texas.

His experience in painting high-end and exotic cars for shows and events left Marwan with a deep appreciation for detail and quality that show clearly in the work produced today from his business.